Hoosier Homemade is one blog I follow almost religiously! Liz is at the top of the blogging world with her hard work, drive, creativity, and organization! I basically worship the ground she blogs on! This is just one of the 1000+ recipes she has shared with me, and they were divine.
And really, who doesn't LOVE a recipe with only 4 ingredients?
Yippee!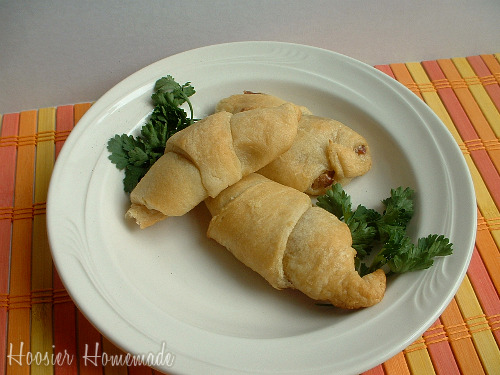 Cheesy Bacon Crescent Recipe…
1-2 tubes of Crescent Rolls (depending on how many you need to serve)
10-15 slices of bacon (I cook bacon in the oven)
1 cup cheese, grated (any kind)
3-5 tablespoons Hellmann's® or Best Foods® Real Mayonnaise
Directions:
Cook bacon, cool and crumble into small pieces. Mix with cheese and Hellmann's® or Best Foods® Real Mayonnaise. Open crescent rolls and place on greased cookie sheet. Spoon a heaping teaspoonful of bacon mixture onto large end of crescent roll, and roll up.
Bake at 350 degrees for about 15 minutes or until golden brown.
Check out Hoosier Homemade-she is the ultimate CUPCAKE LADY!