This is one of my mother's favorite candies!
3/4 c. butter (no substitutions)
1 1/2 tsp.

Pumpkin Pie Spice
1 (12 oz.) pkg. white chocolate chips
1 (7 oz.) jar Marshmallow creme
1 c. chopped pecans or macadamia nuts (optional)
1 1/2 tsp. vanilla extract
Butter a 9 x 13 baking dish. Combine the first 6 ingredients in a heavy saucepan: cook over medium heat until the sugars dissolve, then continue cooking until the mixture begins to boil, stirring constantly. Boil until a candy thermometer reaches the the soft-ball stage (234 ~ 243 degrees). Remove from heat, stir in the white chips until they are all melted and mixture is smooth. Add the remaining ingredients, mix well. Pour into prepared pan, and cool to room temperature. Cut into squares, store refrigerated in an air tight container. Makes approx. 60 pieces.
Note: The total boiling time is around 30 minutes.
We're excited! This yummy recipe was featured at: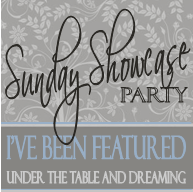 and at:
And look at this! We won over on this blog!
p.s. I can't take credit for this awesome photo.